Here at Cincinnati Limo Bus, we have put together an enormous array of buses for you to choose from. We've got all different sizes with all different feature sets, so every bus has its special advantages that will make it just perfect for your party. Below we'll tell you a bit about the features that are typically standard in our larger buses and our smaller buses. We invite you to come to our lot in person and tour all of our buses to choose the one that is best for your needs, or alternatively you can just give us a call or shoot us an email with all the details about your upcoming party, and our team of Cincinnati Limo Bus experts will choose the perfect one for you.
Our Larger Limo Buses
Our larger buses can easily accommodate up to 28 partygoers, and they are packed with all the highest quality features. For the largest parties with the most luxurious needs, take a look at just a few of our most exciting features that are standard in most of our larger buses: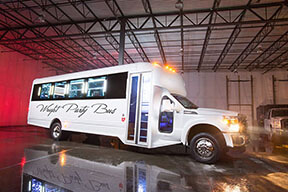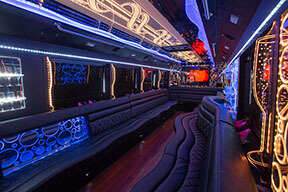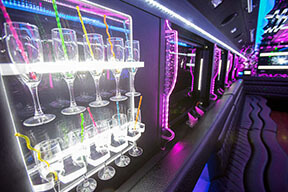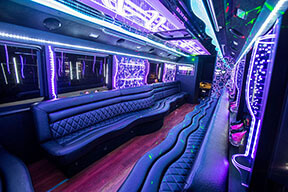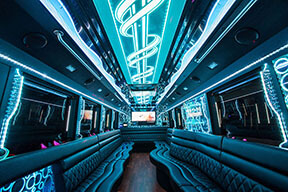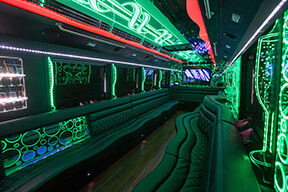 Several HDTVs of at least 42" in size, complete with DVD players, and some of our largest buses also feature HD antennas so you can watch live TV when the bus is parked
Many of our larger buses feature color-changing lighting features that bring a cool color shift to the walls, ceilings, and sometimes even the steps and kickplates!
Optional dance poles are featured in most of our larger buses, some with LED lighting, and some with lit bases as well
While some smaller buses only feature one bar, our larger ones feature multiple acrylic and/or granite bars complete with coolers and cup holders. We provide the ice and cups too!
Premium leather seating is featured in all of our buses, with a wraparound layout that makes conversation so much easier than the traditional-style buses that some other local companies feature
...and so much more!
Our Smaller Limo Buses
For a bit smaller of an option, this 24 passenger limo bus is one that features comfort and style, but with a few less features than our top-of-the-line larger vehicles. Take a look at the features that are included in this and most of our smaller vehicles: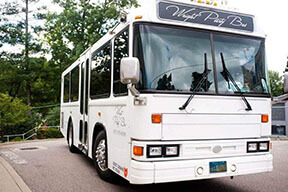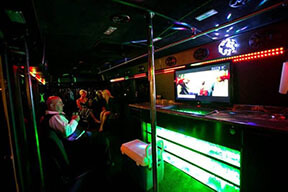 With a 42" LED HD-TV, you'll find that the amenities on this Limo Bus are pretty much right along the lines of our larger choices.
All of our buses, including our small ones, feature high quality audio systems with plenty of bass. You can hook up your MP3 player or bring a stack of your favorite CDs to play.
Premium leather wraparound seating is also a feature in all of our smaller buses, so you don't have to sacrifice any comfort and style
At least one bar area is featured in all of our buses, some mid-sized and larger buses may feature two or more
Beautiful LED and/or fiber-optic lighting is featured in all of our buses too
...and more!